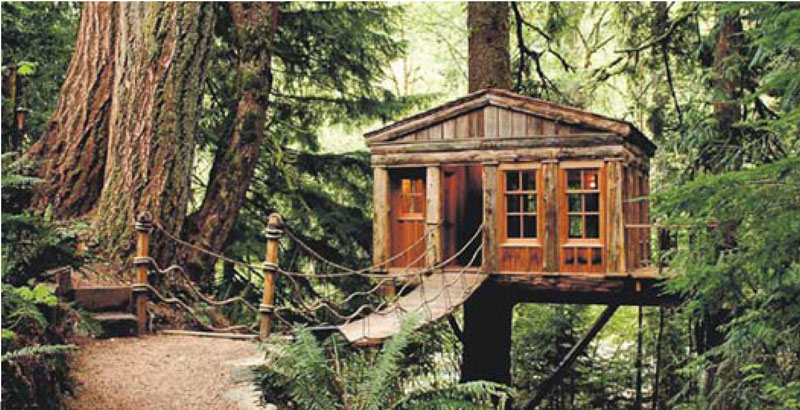 In the late '90's early 2000's, I was living in L.A. and, of course, working in "the biz." As a production manager and producer, I worked 16-hour days, six to seven days a week. The who, what and where I won't get into, but some really cool (now famous) peeps. I had the most insanely fun, intense, fast, furious, rewarding career and got out before I burned out! One of my favorite bosses in L.A. once told me over a Coffee Bean blended in a Malibu courtyard, "This business attracts a very specific type of person, and we all have the 'Tree House Complex.'"
What is the Tree House Complex you ask? (Cue the perfect song that takes you back to your quintessential moments of childhood: for me, circa 1975-80…)
Do you remember as a child dreaming up, conspiring and building your first tree house? That one moment when someone screeches their bike tires to a halt—super proud of rubber laid—and yells, "LET'S BUILD A TREE HOUSE!" With complete reckless abandon and passion you all set out to create the best, most awesome tree house EVER!  That moment when the group takes inventory, assesses all resources, inventories garages, sheds, sides of houses and maybe the side of "that weird neighbor's house." Imaginations explode, problem solving sets in, thinking outside the box begins, because as a child you have no box. The vision is agreed upon, and everyone scatters to hunt and gather. Children are hopping fences, ducking clothes lines and getting nailed with sprinklers as they dash through the hood to beg, steal and borrow. Then they run back through the blocks, dragging their contributions to the meeting point, to the place that will become and house years of friendships, relationships, secrets, heartaches, sleepovers, tears, parties, ghost stories…and so on and so forth (most favorite thing my grandmother used to say to me).
Building your first tree house was the most pure, safe, imaginative, collaborative, authentic, passionate, honest time that you will ever experience. Welcome to…"The Tree House." On the most basic level this is what I do, why I do it  and the way I feel about what I do.
In my blog I will honor those I admire and that which inspires. I will share inspirational images, articles, art, furniture, thoughts. Creativity is about sharing and exploring and researching—it does not happen in a box.
We will look at what is trending and how NOT to trend. And often it will simply be about us. My wonderful hubby, my brilliant baby girls and our dog Hank, because at the end of the day they are my inspiration. Their honesty, creativity, tenacity, sense of adventure, support, love, fashion sense, design sense and senses of humor get me through the day.